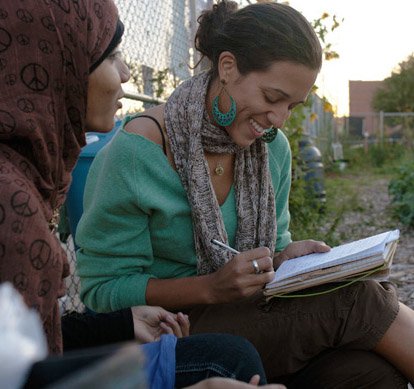 My name is Natasha and I am the creator and author of the photographic storytelling project and upcoming book, The Color of Food, which honors, preserves and amplifies the stories and beautiful faces of Black, Native, Asian and Latina farmers and food activists across the country.
The project and book were born out of my blog Brown.Girl.Farming. where I write about food sovereignty, community and cultural empowerment in agriculture, while highlighting people of color growing food and revolutionizing the food system nationwide.
I began by documenting my own farming journey and digging into the racial, economic and gender inequalities I was seeing for farmers and food communities. I think part of me felt that digging into the soil meant digging deeper into these issues and recognizing and honoring the stories buried there.
I'm simply a girl who loves eating good food and digging in the dirt, but being a young biracial woman in today's exclusive food movement causes me to dig a little deeper.
Check out some of my speaking engagements and presentations > Events