Maurice Small, internationally known organic grower, soil alchemist and visionary, has more than 25 years of experience in food systems development,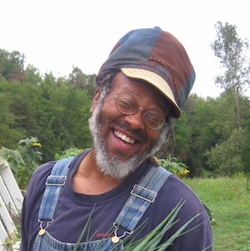 youth entrepreneurship and farmer training, and soil creation. Small's proactive program development and administration in support of regions that are committed to improving food systems has led to numerous multiple-acre sites of organic production in the Midwest and Eastern regions of the United States. His use of creative strategies for re-imagining and establishing food systems has resulted in highly effective, cutting-edge models that push the boundaries of common practice.
Small invests in the people who make food systems possible by training farmers, incubating entrepreneurial ventures, and inspiring positive change through deep-rooted community relationships. He also cultivates unique collaborations with diverse individuals and groups as a way to ensure that healing and hope are available to people as they engage with the earth. Many of Small's alumni of over 400 interns are at the frontline of the movement towards regenerative agriculture and living systems.
Maurice Small is a sought-after speaker, presenter, guest-lecturer, permaculture trainer and consultant who is available to assist communities, organizations, local/state governments and international NGOs. Small was featured in two documentary films, the Real Low Calorie Diet (2007) and PolyCultures: Food Where We Live (2009). Small's photographic work is included in Instructions from The Cook: Recipes for New Conversations, by George Nemeth & Jack Ricchiuto (2008). In 2011, the Rodale Institute named Small an Organic Pioneer in the first year of this prestigious award.
To book Maurice fill out the speakers's form here.