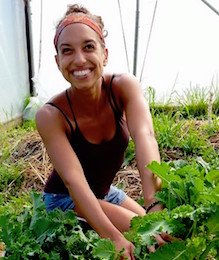 As a core member of the Freedom Food Alliance, Leah cultivates life-giving food for incarcerated people and their loved ones. She also runs an on-farm restorative justice program that is an alternative-to-incarceration for area teens and a training program for aspiring Black and Latino activist-farmers. In recognition of the truth that food sovereignty is a global struggle, Leah is also a core collective member of Ayiti Resurrect, and coordinates an ongoing reforestation and sustainability project with farmers in Haiti, her ancestral homeland. In these spaces, Leah joyfully and reverently connects learners to the intricate miracle that is this living planet and to their own power as agents of positive change in the community.
Her work as a farmer and educator has been recognized nationally by the Fulbright Distinguished Awards in Teaching Program, Presidential Award for Science Teaching, YES! Magazine, the Teaching Channel, Food First, New Technology Network, College Board, National Science Teachers Association, Edutopia, Center for Whole Communities, and Rethinking Schools.
Leah holds an MA in Science Education and BA in Environmental Science and International Development from Clark University. She has been farming since 1996 and teaching since 2002. She can offer presentations that stimulate the mind and heart on the following topics:
Youth empowerment through project-based learning
African-American agrarianism
Undoing racism in the food system
International farmer solidarity – Mexico, Haiti, Ghana
Restorative, carbon-negative, biodiversity-positive farming practices
Intersection of #blacklivesmatter and #foodjustice
Healing through connection to earth, ancestors, and Orisa
Training the next generation of activist-farmers
Land and food as tools to end mass incarceration
To book Leah fill out the speakers's form here.