Karen Washington was born and raised in New York City and has resided in the Bronx for more than a quarter century. She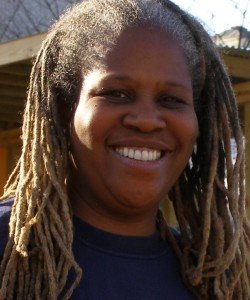 attended Hunter College, CUNY where she graduated Magna Cum Laude, with her Bachelor's in Health Sciences. She then attended New York University where she earned her Master's Degree in Occupational Biomechanics and Ergonomics. Since 1985, Ms. Washington has worked to improve the quality of life in the Bronx as a community activist.Ms. Washington works with residents of the Bronx to turn empty lots into accessible green spaces through her work as a community gardener and as a member of the Board of Directors of the New York Botanical Garden. Not only has her work brought much needed green space to our neighborhoods but, as President of New York City Community Gardens, she has fought for the protection and preservation of existing community gardens. As a Just Food board member and trainer, Ms. Washington also leads workshops on food growing and food justice for community gardeners throughout the city. She has also worked to increase access to fresh fruits and vegetables in the Bronx that are grown in our community gardens.Ms. Washington is the Co-Founder of Black Urban Growers, an organization of agricultural volunteers committed to building networks and support for growers in both urban and rural settings. Ms. Washington has achieved these impressive accomplishments while working professionally as a physical therapist for over 30 years.
To book Karen fill out the speakers's form here.