JuJu Harris was raised in Oakland, California where her interest in the connection between health and food began when her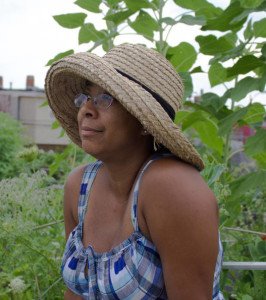 father changed his diet and exercise habits to manage high blood pressure, high cholesterol, obesity and borderline diabetes. Affectionately known as "Nana JuJu", creating delicious, nutritious meals from few ingredients is her specialty. Juju currently serves as Culinary Educator and SNAP Outreach Coordinator for Arcadia Center for Sustainable Food and Agriculture, working from a converted school bus that serves as a mobile farmer's market. She regularly conducts cooking demonstrations, showing practical ways to introduce nutritious, organic produce into one's diet. As a mother who previously received food assistance (WIC and SNAP), she is convinced that healthy food can be easily and inexpensively prepared. JuJu has written a cookbook of recipes—The Arcadia Mobile Market Seasonal Cookbook– which combine WIC staples with fresh produce, and gives tips on selecting and storing produce. It is available free to Arcadia Mobile Market patrons who use food assistance.
One day I said "I wish I knew something about politics or education. Then, I could do something positive in the community." My friends said "JuJu, you know food! You know how to teach people to make a feast using simple ingredients." I parlayed my knowledge into a successful profession as a Culinary Educator, spreading what I call my "my philosophy", that healthy eating needn't be expensive, difficult or time consuming. This belief and my experience as a former WIC and SNAP recipient culminated in my authoring the Arcadia Mobile Market Seasonal Cookbook. Recipes combine WIC staples with fresh produce in delicious, nutrient dense recipes. My time is currently centered on doula studies, focusing on restorative postpartum nourishment as a means of self- and family care. For fun, I knit, watch Game of Thrones and spend time with my home-schooled sons, ages 13 and 16, and my husband of 18 years.
To book Juju fill out the speakers's form here.