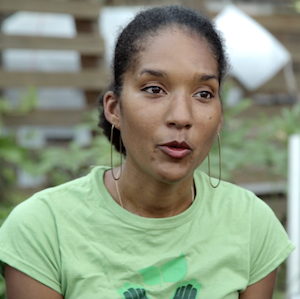 Jenga Mwendo is the founder of the Backyard Gardeners Network (www.backyardgardenersnetwork.org), whose mission is to sustain and strengthen the historically self-sufficient and deeply rooted community of the Lower 9th Ward of New Orleans, LA using our own food growing traditions as a platform to build community, revitalize the neighborhood and preserve our cultural heritage. BGN currently manages two community gardens in the Lower 9th Ward, the Laurentine Ernst Community Garden and the Guerrilla Garden, and the Ernst Garden Resource Center. BGN's latest project, Lower 9 Growing Strong, enlivens the Guerrilla Garden and with free community workshops, events and activities for all ages that promote health, close-knit community and self-reliance.
Since 2007, Mwendo has worked to strengthen the Lower Ninth Ward community – organizing neighbors to revitalize and create gardens, planting trees, and developing support systems to encourage and support the culture of growing in the neighborhood by and for the Lower 9th Ward and the larger Black community of New Orleans. She has worked with organizations, such as the Center for Sustainable Engagement and Development where she led a Food Action Planning initiative (www.sustainthenine.org/foodactionplan) and Tulane City Center as a Community Organizer. She is a graduate of the Southern University Agricultural Leadership Institute, a 2010 TogetherGreen Fellow, and a 2011-13 IATP Food and Community Fellow. She has received numerous awards and recognitions for her work including 2010 Cox Conserves Heroes, the 2011 Gambit 40 Under Forty, and the 2014 EBONY Magazine "Hero Next Door."
Mwendo is currently pursuing a Master's degree in Sustainable Real Estate Development (MSRED) at Tulane University in New Orleans.
To book Jenga fill out the speakers's form here.