Based in Philadelphia, PA, Dara Cooper is a national organizer with the National Black Food and Justice Alliance, an alliance of Black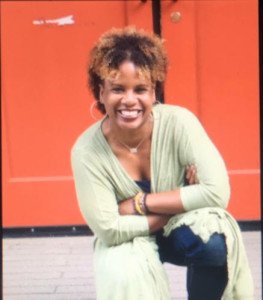 led organizations working towards national Black food and land justice.  She is also an organizer with the HEAL (Health Environment Agriculture and Labor) Food Alliance and has just completed a southern tour interviewing Black farmers, co-ops and food hubs throughout the south with the Center for Social Inclusion.  Dara is the former director of the WK Kellogg funded NYC Food and Fitness Partnership in Brooklyn, NY where she worked on creating and strengthening Black farmers markets, developing a community based local food hub and creating a farm to headstart program in Brooklyn partnering with Corbin Hill Food Project, a local foodhub.
Prior to this work, Dara led the launch and expansion of Fresh Moves (Chicago), an award winning mobile produce market with community health programming, which quickly became a nationally recognized model for healthy food distribution and community based self determination and empowerment. A former Uganda Bold Food Fellow (exchange program between professionals in the U.S. and East Africa), Kalamazoo Arcus Center for Social Justice Leadership Food Justice Fellow, National Alliance Against Racist Political Repression Human Rights Awardee, and a member of Black Farmers Urban Gardeners, Malcolm X Grassroots Movement and Friends of Cooperation Jackson (MS), she believes in the power of people organizing and investing in self-determining, sustainable communities worldwide. 
To book Dara fill out the speakers's form here.