Anan Xola Lololi is a Food Justice advocate, musician and a vegan. Anan is one of the founders of the Afri-Can FoodBasket (AFB) a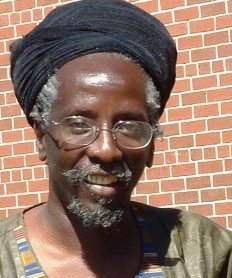 non-profit Food Justice & Community Food Security organization that began in 1995 in Toronto. He has been the executive director (at present interim ED) of AFB for the last 20 years promoting CFS and Food Justice in Toronto, North America and the Caribbean.
Anan has a master's degree in environmental studies from York University with a focus on CFS and a diploma in Business Administration from Centennial College. His passion is working in lowincome communities to help create food secure communities. He was an executive member of the Growing Food and Justice for All Initiative based in Milwaukee, was an executive member of the Community Food Security Coalition of North America –outreach & diversity committee, board member of the City of Toronto Food Policy Council, past Chair of Food Secure Canada Diversity Working Group, administrative and food policy consultant of the Detroit Black Community Food Security Network, past Committee Member of Toronto Region and Conservation Authority Humber Watershed Alliance1 and was a food policy and urban agriculture consultant for FoodShare Toronto. Anan had also been appointed to the Sustain2 Ontario Advisory Council. He has lectured across Canada, US and in the Caribbean on community food security and food justice.
Over the last thirty years Mr. Lololi has done extensive community work in the areas of equity, food justice, community food security, social justice and anti-racism, including training, community development, organizing and running equity/diversity management, community economic development and youth leadership development programs. Mr. Lololi is still a member of Toronto's most prolific reggae group Truths & Rights and a former member of the Black Music Association North America. Anan main body of work of recent has been focused around what he calls "Neighborhood Food Security" establishing food security initiatives in Toronto's
priority communities.
To date he has personally work with 2 urban learning farms (Ujamaa Farm–McVean & Black Creek Community Farm) as a programs coordinator and has animated over 100 community/back-yard gardens and engaged over 1,200 gardeners in Toronto in community
garden animation and leadership training.
To book Anan fill out the speakers's form here.